Lead Zirconate Titanate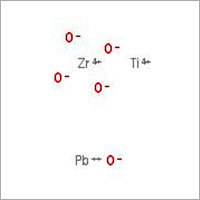 Lead Zirconate Titanate
As a prominent name in the market, we have been occupied as manufacturer, supplier, exporter, trader and distributor of Lead Zirconate Titanate. The appearance of Lead Zirconate Titanate is ceramic in nature. Lead Zirconate Titanate is made up of zirconium and chemical element lead. This compound is used in many applications. It is basically the breakdown depending upon the temperature. It is a intermetallic compound.
Features:



Exist in high temperature

Insoluble

Perfect composition

Accurate pH value
Contact Details
TRIVENI INTERCHEM PVT. LTD.
134, Pancharatna, Char Rasta, G.I.D.C., Vapi - 396195, Gujarat, India
Mrs Gargi Ranjan (Sales Head)
Quick Services