Uranium Hydride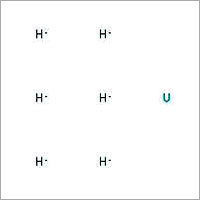 Uranium Hydride
We are commendable manufacturer, trader, exporter, supplier and distributor of Uranium Hydride. Atomic bomb has different designs and Uranium Hydride was a part of it. It was considers as an isotope of hydrogen. Uranium Hydride consists of a chain reaction which is a slow nuclear fission. It is brownish gray in color and when treated with reaction it converts into brownish black. It uses to decompose in nitric acid. Uranium Hydride is treated as a reducing agent.
Features:
Neutron temperature

Highly toxic

Metallic conductivity

Best quality
Contact Details
TRIVENI INTERCHEM PVT. LTD.
134, Pancharatna, Char Rasta, G.I.D.C., Vapi - 396195, Gujarat, India
Mrs Gargi Ranjan (Sales Head)
Quick Services